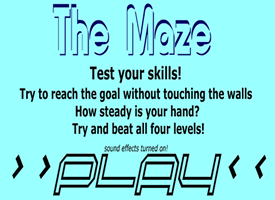 The Maze, more commonly known as the Scary Maze Game , is an Internet screamer made by Jeremy Winterrowd disguised as a computer game with 3 levels. In the game, the player is supposed to use their mouse to move a square along a given path without touching the walls. As the player progresses, the walls get smaller. If the player accidentally touches the wall, the game will lead back to the start menu. In the 3rd level, the walls become so thin that it becomes very difficult to avoid touching the wall. When the player reaches a certain point, an image of a possessed woman (Regan MacNeil from The Exorcist; played by Linda Blair) suddenly appears on screen along with a loud scream.
Appearance in Angry German Kid Series
The game was played by Leopold but he hates it when he saw the image of the Exorcist.
Trivia
This game is also seen in other AGK Parodies.
This game scared TheAGKGenerations2000 when he was like six years old.
This game is also seen in the Falcon Punch Guy Video.
In AGK82's Downfall Parody "Hitler Plays Syobon Action/Cat Mario", Hitler said the Exorcist girl isn't scary anymore