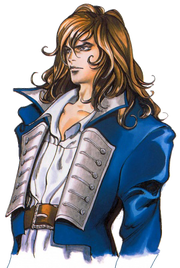 Richter Belmont is a descendant of Simon Belmont and renowned vampire hunter. He has a strong sense of justice and unwavering will. Every generation of the Belmont Clan has produced tougher, more dedicated vampire hunters — yet Richter stands above all others. Brandishing the legendary sacred whip which so many of his predecessors wielded, this hot-headed youth pushed Dracula to the brink.
Appearance in Angry German Kid Series
Richter appears pauladrian360's Angry German Kid Series Angry German Kid Series. He depicted as a protagonist in the Episode "Richter Belmont" to fight Evil Leopold but later became a second protagonist and became a friend to Leopold.
Gallery
Trivia
His name "Richter" came from the German meaning judge.
He is the first Castlevania character appear in pauladrian360 AGK series the second is Eric Lecarde.
When Leopold first met him. Leopold said to Richter "is that Ryu from Street Fighter." which his appearance was resebles to Ryu.
He was the last Belmont to wield a Vampire Killer.
Ad blocker interference detected!
Wikia is a free-to-use site that makes money from advertising. We have a modified experience for viewers using ad blockers

Wikia is not accessible if you've made further modifications. Remove the custom ad blocker rule(s) and the page will load as expected.