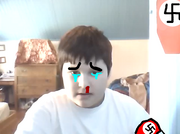 Memy9909 is a bad user and troll on YouTube. He is known for stealing ideas, characters, pictures and anything else from everybody, he is also obsessed with dead fads and he makes stupid hate videos out of cool people like Baxter, Murkekow, MFB and the others, he is also a Nazi Kid.
PrinceStickFigure's Angry German Kid Series
Smash Keyboard
He first appeared in episode 1 of PrinceStickFigure's AGK series as Leopold's classmate.
In episode 4, he fight againist Leopold in the streets.
Memy9909 always steals GoAnimate Videos. In stevecomedian's videos, he pooped on teacher and got grounded.
Memy9909 is terminated. He also got killed by a murder in his school.