Summary
Kaeru Otoko or "The Angry Japanese Kid" is a character who made his first major appearance in Tank202100's AGK series. He has appeared in many other AGK series since then, under multiple names: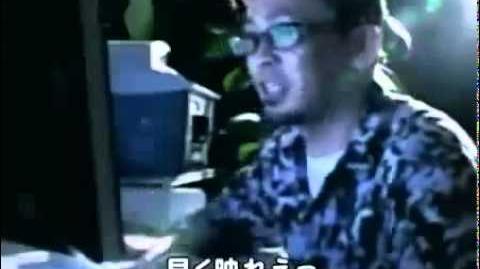 He has the same abilities as the Angry German Kid but in a different manner, mostly being wound up over DVDs instead of video games.
Appearances
In Illuminati 91021's series, his voice will never use the audio from the video, because her audiences are Japanese and she doesn't want anyone to say that he is angry at DVDs.
In SuperMarioZaki's AGK Series, He appeared in episode 6 but his e-mail appeared in episode 5. SuperMarioZaki calls him Angry Cantonese Kid.
In TheLuigi755's AGK series, the AJK is a member of the Slikk family. He was originally intended as a replacement for Leonidas Slikk, for whom Luigi could not find a voice. However, starting from the 2nd episode of the new series, both Haruki and Leonidas appear at the same time, sharing a classroom.
In Lordimertelo2231's series, he is actually against Leopold.
In BlueNewton's series, He says his new fan made name is Atour Outer in his series.
Atarster's first use of the AJK was in AGK Episode 27: AGK Meets the Angry Japanese Kid.
In AGKandRockman2001's series, Kaeru appears in Episode 26. He likes watching hentai stuff like "High School DXD". He also likes Tailsko. He is voiced by Connor Marini.
In Travrinity's series, Kaeru will be voiced by Connor Marini. He is also very nice and doesn't insult anyone a lot. He will appear in the second episode of AGK. His favorite music comes from Fear and Loathing in Las Vegas, LiSA, Eir Aoi, and Howling abingdon boys.
In Adrenaline21's AGK Series, his debut is from the 8th episode of Adrenaline21's Original AGK Series Season 1 (AGK: Parody Show).
In PrinceStickFigure's AGK Series, he appears on the 3rd episode of AGK Rebooted.
In Tulio Sheihee's series, he is set to appear on Episode 19 as an extra character, while Flash Sentry and Twilight Sparkle ranting and finding Leopold when they get into Kaeru's house.
In Kimmyfinster2476pro's Series First Appear on Season 4 Episode 50 was new Characters While Last Appear on Season 10 Episode 103.
In Shiyamasaleems's AGK Series, his name is Takashi Hiroshi.
Note: This Character has Spanish names customs the first maternal family name is Lin and the second paternal family name is Jin
Hariko Jerebeko Lin Jin Born in May 31st 1998 he is Japanese-Spanish he helps Leopold alot on S3 Ep2 when Leopold is defeated by Evil Sonic Hariko helps Leopold defeating him and gives Leopold a First aid kit he also help Leopold troll his father and he helps Leopold and Jake for beating Dark Leopold who possessed Sonic and Hariko gives Dimitri France Leopold's Bully a coal and and a blowing up dynamite bomb with saying "don't ever bullying Leopold again you fucking idiot"
Kaeru is a member of The Bastards (Adventures), who later defected to The Slikks in Reloaded to assist Leopold in combat. Like Jake, Kaeru takes out any members of The Bastards whenever he wishes or wants to.
Bio (exclusive to Adrenaline21's AGK Series)
In season 2, 3, Final Mix and Final Mix~The Movie~ Bumper, his biodata can be seen as...
Name: Kaeru Otoko
Japanese Translation:
男カエル (Otoko Kaeru)
Age: 15-16 (Season 1), 18-19 (Season 2), 22-23 (Season 3, Final Mix and Final Mix ~The Movie~)
Birthdate: Early 1996
Blood Type: A
Alignment: Good
Parents:
Same as Ronald Suez of their parents being unnamed.
Siblings:
N/A
Height: 179 cm
Weight: 71 kg
Gallery