Message from DrLuigiGamer2001
Hi guys i was in School i couldn't post for a while. my 16th birthday is coming soon. i would like to say thanks for hoping i am back for more than 3 months to the wiki i really want to say i was trying to get back to the wiki but school days really bothers me alot i wasted so much time getting back to the action so yeah i was just saying i am back this DrLuigiGamer2001 signing out.
Message from yhynerson1
I have protected this page from Russian scums. No worries.
As of July 21st 2016 He won't able to post anything until September 6th 2016
He doesn't like using his real voice, because he really doesn't want his voice revealed on the internet.
Unlike other 14-year olds his face makes him think that he is an adult, due to his black hair, black mustache and brown eyes. He doesn't want to reveal his face, though.
He likes Xbox One on his Computer tablet.
He is 5 months older than Ivan187.
In 2019, he is gonna be 18 years old
He is 3 months older than
Illuminati 91021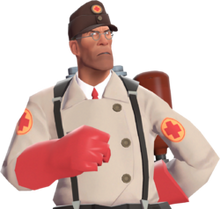 He is 15 days younger than Tanzim K.
He is 63 days younger than LeopoldXTailsko10120.
His surname Dollars was given by his mother.
He never had any copyright claims even in 2014.
History
(2014-Present) DrLuigiGamer2001 era
DrLuigiGamer first Created his channel back in 24 August 2014 he didn't post a single video until March 21st 2015 he gained 5 subscribers few days later. Today he has 33 Subscribers.
AGK Parody Maker/First retirement(2015-2017)
DrLuigiGamer posted a video of AGK back in fall of Autumn 2015 he maded 3 seasons until January 30th 2016 when he saw that his AGK series views had Between 150-300 views
On January 30th he announced his retirement from making AGK he deleted all of them.
Future/Return to making AGK (2017-present)
DrLuigiGamer says he will make a come back to making AGK But he has to wait his Older years to make AGK. For now he is trying making others series like (Adventures with Microsoft Sam Mario and Sonic show etc.) He is back from youtube since his 16th birthday.
Other Facts
He was born when Dark Angel: Vampire Apocalypse was released for PS2.
His birthday was a few days after the 4th of July.
He actually didn't have his birthday issues because his parents do care about his birthday.
He hates school because it's too boring for him. Instead, he decided to stop studying.
He really likes Ivan187 because he apologized for what happened in June 2015.
He doesn't really like FoxyGamer but he doesn't hate him in general.
When his videos have lots of dislikes, negative comments or poor editing he doesn't hesitate taking them down (possibly avoiding CG Strikes).
He Likes
LeopoldXTailsko10120, Travrinity, Atarster, BlueNewton, and more. (Friends)
Having a good life.
AGK (obviously).
KBDProuductionsTV, Markiplier, Jacksepticeye and more. (YouTubers)
Mario and Sonic games.
Making Mario and Sonic Adventure show (he is currently workin' in it :V).
Dr. Pepper, Mountain Dew and Maple syrup. (Drinks)
His favorite season: Autumn.
His favorite months: January, February and July.
His favorite holiday: Thanksgiving.
He Dislikes
Dragon Ball Z.
MlstUr prik (because he gets pissed off everytime mlstUr prik annoys him).
King Nigga Will Fuck you all UTTP (because it's his worst enemy).
FoxyGamer (he don't like him sometimes but in general; he will later apologize to him after turning 15).
UTTP and VGCP (because they don't stop the war).
He Hates
Japanese Anime.
Being cyberbullied.
UTTP and VGCP users.
Other Facts about him
He never drank any fizzing drinks since he was 7, until the age of 9.
He never made his YouTube channel back in 2013 because he was too young to make a channel.
He was 13 when his channel was made (today he is 14).
He never played any videogames since he was 3, until the age of 5.
His birthday was actually National Chocolate with almonds day.
He don't have his birthday issues or incident at all.
He is the third Canadian AGK parodist. The others are Tanzim K and Strongproblems.
He can perfectly translate from French to English because he is Canadian. Other people who can translate are LeopoldXTailsko10120 and Cth103.
Sadly, he never spoke French to anyone, because he likes speaking English (you can however talk to him in either language).
He got a Siberian Husky dog (Actually it's another dog he got in Canada).
His dog can actually howl like a wolf. It is unknown why it happens.
Injuries he got
Sore foot (December 30th, 2015 - April 5th, 2016)
Sore back (January 8th, 2011 - December 30th, 2015)
Sore Ankle (February 17th 2012 - April 5th, 2016)
His Ability
Painting: 5-10% (D-)
Making videos: 80-90%(A-)
Gmod videos: 0-5%(F)
Adding music: 95-100%(A+)
Trivia
He is suffering paranoia since at the age of 14
He does makes mistakes when editing his accounts (Youtube twitter etc.)
He is loves playing basketball he is trying to developping his free throw and the 3 pointer because his playing skills is Defense Rebounding Putbacks Midrange shooting and The inside scoring
He doesn't like Football
He cares alot people who has bad health etc.
He don't post any videos for everydays only like 4 or 5 months