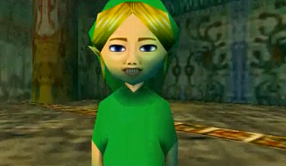 BEN is a character from a creepypasta called "Ben Drowned". It is an online legend about a haunted The Legend of Zelda: Majora's Mask cartridge for the Nintendo 64 video game console. It is often associated with the phrase "You shouldn't have done that". And etc
Trivia
BEN first appeared in "Angry German Kid vs. BEN - First Encounter" by YouTube user NewAgeRetroHippie15, and again in "Angry German Kid vs. BEN - The Second Coming".
BEN then appeared in episode 4 In The "AGK Misadventures", and is the main villain of the BEN Saga. He is voiced by TheDrapocalypse in this series.
He also appears in YouTube user DimitarTNT's "AGK Episode 9: Angry German Kid Plays Haunted Majora's Mask". And well smashes keyboard like a angry kid and causes
Weirdness
Creepiness
Rage
Etc
Ad blocker interference detected!
Wikia is a free-to-use site that makes money from advertising. We have a modified experience for viewers using ad blockers

Wikia is not accessible if you've made further modifications. Remove the custom ad blocker rule(s) and the page will load as expected.