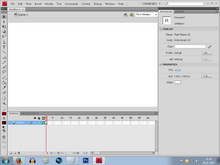 Adobe Flash aka Adobe Animate (formerly called Macromedia Flash and Shockwave Flash) is a multimedia software platform for the production of animations, browser games, rich Internet applications, desktop applications, mobile applications and mobile games.
In parodies
Several Flash games appears in some AGK series. e.g. In TheKewlOne96, Ivan187 and some others' series, Leopold plays The Impossible Quiz and ends up failing.
UsefulAGKHelper also uses Flash to make AGK videos, notably the animations.
Ad blocker interference detected!
Wikia is a free-to-use site that makes money from advertising. We have a modified experience for viewers using ad blockers

Wikia is not accessible if you've made further modifications. Remove the custom ad blocker rule(s) and the page will load as expected.