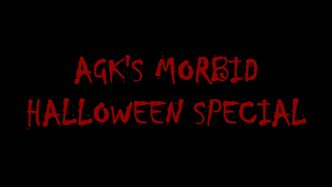 AGK's Morbid Halloween Madness is a Holiday 
event based on Five AGK Episodes sort of like Creepypasta stuff. It's made by the AGK Maker: PVMAGKVIDEOS. 
The Idea is to make 5 Episodes in the month: September to October.   Then he has enough time of making the Five AGK Morbid Halloween Episodes.
PVMAGKVIDEOS' Shedule
This is a Shedule based on this Halloween event.
The Episodes are listed and Sheduled as followed:
| # |  1ST AIRING |
| --- | --- |
| | Premiere: October 1st |
| Episode #32: AGK Plays Yoshi.exe   | Premiere: October 7th |
| Episode #33: AGK Plays The Luna Games  | Premiere: October 14th |
| Episode #34: AGK Plays Haunted Majora's Mask   | Premiere: October 23th |
| Episode #35: AGK Watches The Wyoming Incident | Premiere: October 31th   ( HALLOWEEN ) |
Snapshots
There are a few Snapshots avaible ( Uploaded by PVMAGKVIDEOS )
2017 Reboot
Ad blocker interference detected!
Wikia is a free-to-use site that makes money from advertising. We have a modified experience for viewers using ad blockers

Wikia is not accessible if you've made further modifications. Remove the custom ad blocker rule(s) and the page will load as expected.